On what was until recently a stretch of closed down shops on Archway Road near Highgate tube, a cluster of interesting shops has sprung up. Big Smoke's Sarah Cope went along to investigate…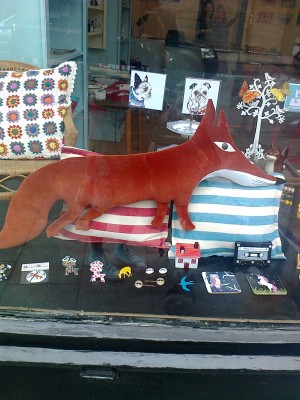 Souvenir
We started our tour at Souvenir (249 Archway Road), where proprietor and graphic designer Cassie Ostwald showed us her collection of British-based artists' offerings. A theme soon emerged: foxes.
The window display of fox cushions, each one handmade out of vintage fabrics, is what draws people in, according to Ostwald, who comes from a family of shopkeepers; her mother in fact owned the much-missed 'Rainbow Toys' which survived for over two decades on this same parade of shops.
As well as fox cushions there's fox coasters, fox necklaces, illustrations…though the next big thing is greyhounds. You heard it here first.
Quarters Cafe
Our next stop was Quarters Café (267 Archway Road), a few shops up. We spoke to Rob who runs the place as half café, half antique shop.
You might pop in for an excellent Monmouth coffee and end up leaving with a huge Second World War Naval Officer's trunk (this actually happened whilst we were there!).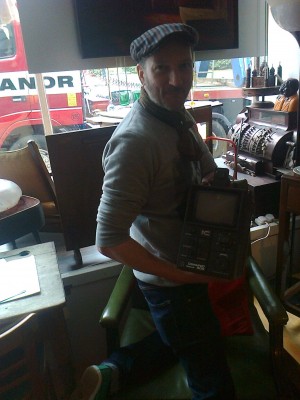 That's the sort of place we're talking about. It's not quite Starbucks. Thank God.
Rob showed us his favourite finds, which he sources from various antiques fairs around the country. His favourite piece at the moment is a 1980s portable TV, but that's not for sale.
Whilst you munch on your Thai curry and rice you can gaze at the turn of the century Maple & co cot.
And you might wonder to yourself what on earth the object shaped like a mosque on a stand with slots underneath actually is; answers on a postcard, please, as Rob himself has no idea!
The shop also has a 1920s till in the window (labelled 'not for sale'); this has been in situ since it was made, partly as it requires 3 people to shift it!
The café also hosts a photography exhibition organised by Uncertain States. All of the pieces are for sale so you can pick up some art as well as some furniture on your visit if you're feeling particularly extravagant.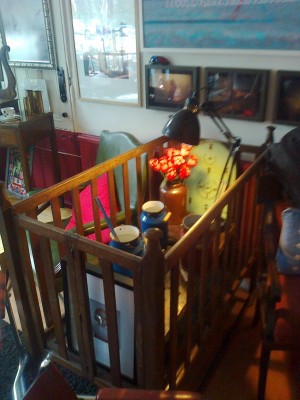 Artway
Our final stop was Artway (273 Archway Road), where owner Helen Batchelar showed us vintage clothing, antiques and curios a'plenty. Downstairs she has an art gallery, whilst the ground floor is a shop complete with resident dalmation, Pika.
The aim is to support local artists and the plan is to soon start stocking haberdashery in order to cash in on the craft craze.
The shop owners all mentioned that they might hold a street fair at some point soon. But come what may, do go along and check out and support these much-welcome independent shops.
The Archway Road isn't a pleasant place what with very heavy traffic and pollution, but step into one of these shops and all of that seems to momentarily disappear…