While we know that Labour polled very strongly in the Assembly seats (detail) and the Greens made their move forwards to third place above the Lib Dems look far easier than it was in reality (detail) these are the simply the two highest profile parties who attract left of center vote.
At this election there were a number of full on socialist candidates who battled bravely against the electoral tide with mixed results.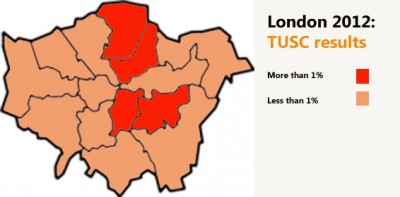 TUSC
The Trade Union and Socialist Coalition undoubtedly suffers at elections from having a silly name that no one understands. This is a shame because they have some serious and interesting candidates who deserve a hearing.
Over London TUSC received a difficult to spin 0.8% of the vote. Four constituencies gave them more than 1% of the vote, which were unsurprisingly areas like Greenwich, Lewisham, Tottenham, Islington and Hackney which have always delivered for the left of Labour before – but let's not call them the strongest areas when not a single one reached the heady heights of 2%..
In particular with areas like City and East turning their backs on the left vote when it is not that long ago that they elected George Galloway to Parliament and Lutfur Rahman to Tower Hamlets mayor.
Some of TUSC's difficulties will have revolved around their attitude to the Mayoral challenge. By not standing in the Mayoral race they missed out on the best way of promoting your vote across London and will have gone unnoticed by most of the electorate. Some assumed that this was in order to give Livingstone a clear run but that does not make sense for two reasons.
Firstly, the electoral system allows you to stand your own candidate and promote a second vote for Livingstone. It's actually to Labour's advantage to have rival Mayoral candidates send second preferences their way. For pro-Ken TUSC-ites standing for Mayor is a win-win situation.
Secondly, TUSC did not endorse a vote for Livingstone but left it to voters' consciences. They essentially adopted a position where they neither wanted the Mayoralty themselves nor cared who else got it. That's a real set back in an election where most voters think of their Assembly vote as an additional vote they get rather than the reason to turn out.
Constituency Communists
There were for left candidates in the constituencies. Two from the Socialist Party our Great Britain (see our interview with Daniel Lambert), one from the long standing localist People Before Profit in Lewisham and Greenwich and one from the Communist League, who seem to keep themselves to themselves.
The Socialist Party nearly doubled their vote in Lambeth and Southwark and in both constituencies polled much better than their TUSC rivals on the list. For clarity voters did not have to chose between the parties as they were standing on different ballot papers so we're talking about people who were happy to vote for a far left candidate, but didn't necessarily want to vote for them both.
| | | | | |
| --- | --- | --- | --- | --- |
|  Constituency |  Candidate |  Party |  Vote | TUSC |
| MERTON AND WANDSWORTH | MARTIN James |  The Socialist Party (GB) | 0.9 | 0.60% |
| LAMBETH AND SOUTHWARK | LAMBERT Daniel |  The Socialist Party (GB) | 1.9 | 1.20% |
| GREENWICH AND LEWISHAM | RAYMOND Barbara |  Greenwich and Lewisham People Before Profit | 5.2 | 1.20% |
| CITY AND EAST | DAVIES Paul |  Communist League | 0.6 | 0.74% |
While TUSC just managed to pip the Communist League at the post in City and East the result that really stands out is the truly excellent result for Barbara Raymond in Greenwich and Lewisham who managed to retain her deposit backed by an organisation that is mainly based in the south of the constituency. When the ward breakdowns come out it will be interesting to see if they are within grasping distance of Lewisham counillcors in 2014.
Running an energetic and well rooted campaign they certainly took votes off the Greens in the only Green stronghold that lost votes at a Constituency level. What they do not appear to have done is significantly boost the vote for their TUSC comrades despite the fact that many people in the area are members of both organisations.
Conclusion
Overrall a poor result for those to the left of the Greens and Labour with the honourable exception of People Before Profit who achieved a result well beyond where they might have landed with a weaker campaign. One lesson for the left from this election might be to have a consistent organisation that functions between elections, that's focused on issues in the area and has a name that immediate tells you what they stand for without conveying the idea that you're hoping to lead a bunch of Soviet tanks into battle against the Imperialist dogs.
However, the left would have had to achieve PbP's result across the city in order to win even a single Assembly Member from the list, so perhaps the real lesson is that elections are more difficult than the left thinks.