Danny Bates is an Officer of Hackney Green Party and London Green Party. He works for Jean Lambert MEP as her London Constituency Co-ordinator.  He has lived in Hackney for 15 years.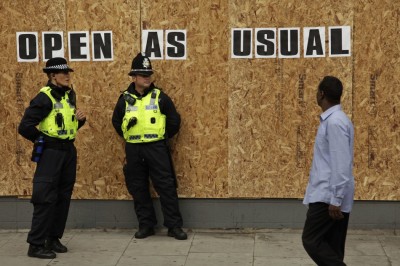 One year ago something happened in London which was unimaginable to many. Intense riots spread across the city, cars burned, buildings blazed, barricades were erected and looting was rife.
BBC images showed a part of Hackney a few metres from where I used to live become a frontline on a weekday afternoon.
On 4 August 2011 police in Tottenham killed an unarmed 29-year-old father of four, Mark Duggan, and then failed to formally tell his family.   The incident led to a protest outside Tottenham Police Station and, as tensions, frustrations and anger built, a night of disturbances followed.  Riots then spread across London and then to other -mostly inner city – parts of England.
Political disturbances?
Were the politics of the London riots complex, simple, or, as has been insisted, non-existent?
When David Cameron cancelled all police leave and recalled Parliament  it was clear, should there have been any doubt, that this was a national crisis. A Government, Opposition and media consensus emerged that the perpetrators were criminals and that the events were not political, they were not the expression of political grievances. We were dealing with selfish thugs, louts and hooligans who were either planning interventions through gang networks or were simple opportunists – or both.  Widespread use of Blackberry messaging suggested both organisation and opportunism, partly explaining the swarm logic, as individuals moved around neighbourhoods, or in some cases across the city.
Nobody likes thugs, louts and vandals, and much property damage and theft took place, often quite randomly and opportunistically.  Indeed, many have now received particularly tough sentences for their actions.  But that simple fact should not stop the asking of probing questions about the riots and their multiple causes. Criminals, even violent ones, can be political too.
It has been said that those rioting and looting were not protesting about Mark Duggan, they were simply using it as a cynical pretext for criminal acts, suggesting that no connection could be made between these events. The increasing hardship and alienation of many young Londoners – and the rioters were mostly young – was also rejected by many Coalition politicians as an irrelevancy.
London's Youth
There is not much point making excuses for individuals, but thinking about the politics of the riots means looking at the wider context, especially for young people.
Would young people in London have any justification for feeling alienated, forgotten, marginalised, neglected? Would they have any justification for feeling that Government policies are increasing their frustrations and experience of economic hardship rather than lessening it?
The UK is still the world's sixth richest country. Inner London, which includes the poorer inner city boroughs as well as the City, is the richest (sub)region in the European Union (pdf). Even after the banking crisis, the UK is one of the least regulated economies in the world, with free-market consumerism permeating our values, narratives and visual culture. As the Olympics has reminded many of us, you cannot actually think of achievement or success in life without also thinking of the logo, the billboard, the brand.
One in four 'economically active' young adults in London is unemployed.  This compares to one in ten for the London population as a whole. Both figures are higher than for the rest of England, but the gap between youth unemployment and average adult unemployment in London is greater that elsewhere.  18-24 year-olds in London are poorer and more economically disadvantaged than young people elsewhere, and this is Britain's most expensive city. Young people also exist at a greater 'economic gap' from other groups in London than in other parts of the country. Things are even worse for Inner London, with inner Boroughs having higher unemployment than the outer Boroughs.
Child poverty levels in London remain some of the highest in Britain, putting pressure on struggling families often living in substandard overcrowded housing. The Coalition's truly pernicious withdrawal of the Education Maintenance Allowance has hit young people and their parents in London particularly hard.
Where are we now?
What, then, does London look like in August 2012, one year after the riots?
There is growing youth unemployment, a worsening housing crisis, a gaping and widening rich-poor divide, scandalous levels of child poverty, ongoing cuts to benefits and services, and a systemic failure to make the police accountable.
Police-community relations in London have not only remained poor, they have probably deteriorated.  Ongoing stop and search, the Ian Tomlinson case, the close relationship with the Murdoch media, the undercover protester scandals., the recent arrests of critical mass cyclists.  The last 12 months has hardly built trust.  And 12 months on, serious questions remain in the Mark Duggan case.
Also, and unsurprisingly, London's turbo-capitalist consumerist culture and visual landscape is still thriving.  If anything it is becoming ever more desperate, as consumer demand fails to kickstart the economy.  This adds another dimension.  By this logic, status, success and satisfaction are only possible through consumer products, especially expensive elite ones.
We have a tough – and getting tougher – economic situation for London's young people, with Government policy increasing rather than relieving the pressure.  We have an aggressive consumerist culture and we have a police force with very low public standing, especially in inner city communities.
Will these factors make future riots more or less likely? Staunch defenders of the Government may wish it otherwise, but for most of us, reality and history suggest that these issues need urgent attention.
One year on, and these problems have not simply been ignored, Government policy has actively made them worse. Can this really have no consequence?  A year ago many Londoners couldn't believe what was happening to their city.  How will we feel if London is ripped apart again?