According to a report by the Greater London Authority from January 2010, London produces 55,000 tonnes of waste every day – about 20 million tonnes per year. About 80% of that waste comes from businesses around London, and about 30% of all waste is sent to the landfill each year. Because London, like many other areas of the world, is running out of landfill space and is also dealing with the harmful effects of waste sitting in landfills, the city is looking actively for more efficient ways to deal with its waste. Here are five of the options that have been proposed by various individuals and organizations: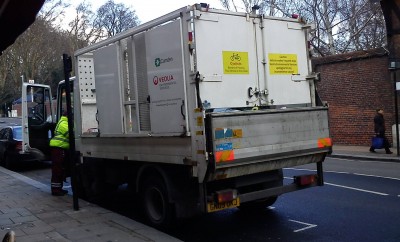 1.       Reduce and reuse
The Greater London Authority report notes that one of the major emphases of the London government for moving forward with the city's waste management program is to encourage less consumption and more reuse. This plan basically deals with waste at its source – with businesses and consumers who generate it every day. Whi
le you certainly can't reduce consumption to zero or reuse everything you buy, there are plenty of ways to reduce and reuse, which are more environmentally friendly, efficient, and cost-effective even than recycling.
Reducing waste can be done by encouraging consumers to shop smarter and be encouraging businesses to use less packaging and to design less wasteful products. London could also benefit from a reuse network that would allow businesses and individuals to hand off items that they no longer need to those who do need them, rather than tossing unwanted items into the landfill.
2.       Eco-fuel
Another great way to more efficiently deal with waste is to capitalize on food leftovers and waste – which account for a huge portion of the waste that ends up in landfills. The Mayor's Foodwaste to Fuel Alliance is currently working to turn this food waste into eco-fuel that can be used for many different purposes. The ultimate goal of the eco-fuel program is for London to stop sending any food waste at all to the landfill from supermarkets and other food-based businesses.
3.       Redistributing food
For food that is still good but that will be wasted anyway, food redistribution programs like FoodCycle can take care of much of the waste. According to FoodCycle.org, London tosses out about 400,000 tonnes of extra or imperfect food each year, which is still good enough to eat, and there are about 4 million food-poor individuals living in the UK. FoodCycle works with volunteers to gather still-good food that restaurants and supermarkets are about to throw out and to turn that food into nutritious meals for individuals who need them. It's a great program that could really make an impact in London's waste problem as well as the problem of food poverty.
4.       Supporting products from recycled materials
Another great way to increase recycling and reuse and to reduce waste is for London to support products made from recycled materials. As recycling techniques become more and more efficient, more old products can be turned into new ones. Supporting the businesses and entrepreneurs who make new products from old ones could make a huge impact on the amount of waste that goes to the landfill. Plus, this approach could really boost the economy by giving waste an actual value.
5.       Better recycling and composting programs
London's goal for composting and recycling is for 80% of the city's waste to be either composted or recycled by 2031. Some intermediary goals to that huge goal include recycling or composting 45% of municipal waste by 2015 and 50% by 2020, recycling or composting 70% of commercial and industrial waste by 2020, and reusing or recycling 95% of construction, excavation, and demolition waste by 2020. Supporting easy, hassle-free borough-based recycling programs for Londoners is another great way for London to encourage recycling and composting with individuals and families.
How You Can Help
Of course, we can make all the plans we want to make the London waste situation more eco-friendly and manageable, but if individuals aren't on board with these measures, then they'll never succeed. As a Londoner who wants to make our city a more sustainable, green, and wonderful place to live, there are plenty of things you can do to help the London waste situation and to reduce your personal carbon footprint – helping to reduce the carbon footprint of London, in general.
Drive less. 29% of greenhouse gas emissions come from transportation, and you can reduce this by driving smarter and driving less.
Reduce consumption. Find ways – big or small – to reduce consumption, particularly of new products, in your own home and life. Take a coffee mug to work instead of using disposable ones. Buy used clothes from your local secondhand shop. Carefully consider major purchases, and don't buy new products if you don't actually need them. Grocery shop for products with less packaging.
Reuse items. Reuse items that you are getting ready to throw out by upcycling them, or turning them into something new or more stylish with basic do-it-yourself techniques. If you can't find a new use for an old item, sell it or give it away to someone who can, rather than throwing it out.
Recycle. Find out about your borough's recycling and composting program, and take advantage of it. If you can, work with community authorities to develop an even better, easier to use recycling program for your area.
Support green businesses. Find out which of your local supermarkets and other local businesses do a great job of reducing, reusing, and recycling at the business level, and support those businesses as best you can.
Together, we can all help make London a more beautiful place, and we can all help deal with the waste problems the city is having. These five ideas, as well as the smaller ideas you can do on your own, can help London reduce its environmental impact and remain a vibrant, healthy place to live.
Stephanie Phillips is a blogger at CreditDonkey.com, a US-based credit card comparison website.