Clean air campaigners joined forces in Islington on Saturday in order to promote World Car Free Day to reduce air pollution in the borough.
The group, including Climate Rush and Green Party activists as well as a very pollution conscious dog, handed out leaflets and chalked slogans in car parking spaces through Islington, highlighting the need to tackle air pollution in London by reducing congestion and promoting cycling, walking and public transport.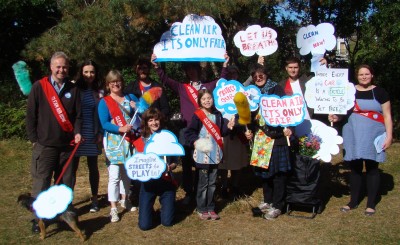 Islington is London's second densest borough and is the borough with the least amount of green space. It also has some of the highest rates of air pollution in London with over 50% of Islington schools within 150 meters of a busy road. Air pollution from cars is linked to a 15-30% increase in childhood asthma as well as respiratory and cardiac conditions in adults.
Damien Clarkson of Climate Rush said "Today was about creating an alternative vision for our streets by illustrating how communities could thrive in an environment less cluttered by cars. Our 'clean air cloud' created a rare breath of fresh air for Islington residents used to living with toxic air pollution levels. We're calling for investment in creating better cycling infrastructure, pedestrian only public spaces and cleaner buses and trains. This would help address the mass inequalities caused by air pollution and car dominated streets. And would undoubtedly lead to happier and healthier Londoners"."
Caroline Russell, of Islington Green Party, said "We live in London's most densely populated borough, with the least green open space and a high proportion of residents suffering obesity and lung and heart diseases. With fewer local trips by car, more of us could travel quickly and easily on public transport or walk and cycle more safely and more healthily."
Nicola Baird, whose 11 year old daughter has suffered with asthma since she was four, said, "If you've got kids with asthma, like I have, you're often too wrapped up in their health problems to make any fuss about the terrible air pollution in London. But we really need to complain more. Because I feel this is an issue we can't ignore any longer, I'm taking to the streets on World Car Free Day."