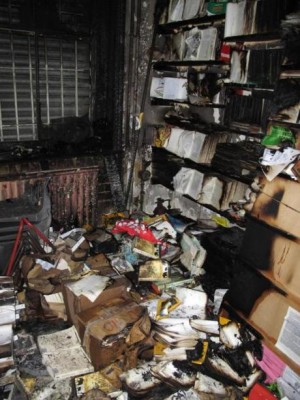 The anarchist bookshop "Freedom books" suffered a firebomb attack last night which caused severe damage to the shop, but left no one harmed.
The bookshop put out a statement;
No-one hurt, upstairs is okay but shop and electrics have been seriously damaged. Not much to be done today, but plan for cleanup and appeal for cash (no insurance coverage sadly) will be getting sorted out asap. Thanks to everyone for the kind words, brief answers yep we'll be making an appeal but still sorting out what's next atm! A few people have asked about cheques – we should still be able to get mail so yes you can send them, made out to Freedom Press, thanks :)
It appears the shop was not insured.
The shop is looking for volunteers to help clean up at 1pm, tomorrow (Saturday 2nd) at the 84b Whitechapel High Street shop.
As yet the perpetrator is unknown.
Demotix has a series of photos of the damage.