Although I enjoyed Ben Aaronovich's Rivers of London
 I did find myself frequently stopping and thinking "do I like this? Really?".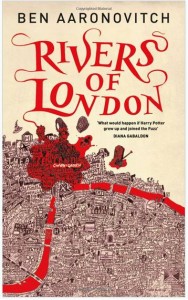 A supernatural murder mystery set in today's London of coffee shops, mobile phones and traffic jams might not be to everyone's taste, but you may well want to give it a chance. It's the kind of book you'll either be a great fan of or entirely frustrated by.
Clearly very influenced by Terry Prachett, Aaronovitch comes with all the master's strengths and weaknesses. There's a strong momentum and lightheartedness that makes the book easy to read but the flippancy isn't always going to be to everyone's taste.
There's also a steady stream of new and eccentric characters. While I'm aware this is what people love about Prachett for me it makes him almost unreadable. There was a time that even one vampire in a book was seen as "plenty" but we live in an age dear reader where if you haven't introduced at least a half dozen new mythological beasts in each chapter you are somehow behind the times.
I'm the sort that is so easily pleased that one supernatural beastie on the rampage through London would be enough, so three dozen incidental sprites, ghouls, ghosts, vampires and wizards leaves me jaded and listless. This is the stylistic equivalent of a cola addicted ten year old where everything has to be action and the lack of space to breath means we lose the possibility of depth.
I don't want to be mean because the book has a certain something. It's written in a personable style and is trying to entertain with a worthwhile story. Certainly most of what lets the book down for me others will find a strength, with one exception. The story's central who-done-it aspect is comprehensively undermined by the publisher's decision to publish a picture of the murderer on the cover of the book. Not cool people, not cool.
All in all Rivers of London was worth dipping into but whether it has its hooks into me enough to buy the sequels… well, we'll see.