Jim Jepps examines today's so called twitter controversy and asks whether Diane Abbott is a racist or facing a backlash of racism.
One unexpected aftermath of the Stephen Lawrence murder convictions is the vilification of the first female black MP, Diane Abbott, who has the unasked for distinction of being at the center of a 'race' storm. It is particularly perverse that the media headlines should move from the deadly serious topic of justice delayed and racist murder to an ill-judged tweet so quickly and with equal vigour.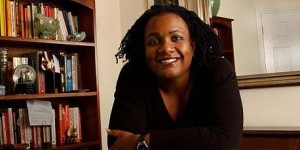 The BBC reported that Diane Abbott, one of Hackney's three MPs, tweeted "'White people love playing 'divide & rule' We should not play their game" which some Tories (a party not entirely renown for its anti-racist credentials) took to be racist bigotry against white people.
Sadly Abbott has now deleted the offending tweet but it actually read "@bimadew 'White people love playing 'divide & rule' We should not play their game #tacticasoldascolonialism" and by removing the preceding 'at' and concluding 'hashtag' the BBC have inadvertently distorted the meaning of what was being said.
There's some justification for removing the first 'at' as it would probably have led to Hackney journalist Bim Adewunmi (@bimadew) being deluged in the media storm (which she was anyway, as explained here). There is no justification though for not informing readers that a) the tweet was part of an ongoing conversation and b) the tweet contained a hashtag, which serves as a shorthand to give some wider political context to the remark – which, on a site that only allows 140 characters per tweet, is a crucial piece of information.
Was Abbott right?
Historically British colonialism has played a game of divide and rule among those it sought to subjugate (including at home) and sadly the racist mark of that legacy is still with us today. It's perfectly legitimate to discuss that legacy.
It's also crucial to recognise that a discussion that takes place on twitter is often clumsy, due to the medium itself, no matter how careful the tweeter is. Twitter users are forgiving of these necessary imperfections, those less accustomed to the site are less aware that each tweet is not a fully thought through and polished statement of the speaker's politics. The media is too focused on a short-termist agenda of catching people red handed in a "gaffe" to recognise that nuance and context.
As adults we should not pull out single sentences from people's arguments and subject them to a detailed forensic analysis devoid of context or, in the BBC's case, devoid of even the entire tweet. By removing the word colonialism from their quote the BBC make the evidence look far more damning than it actually is, although in fairness while the full tweet does not appear in the text of the article, further down the piece they display a picture of the full tweet with @ and hashtag.
While it's perfectly possible to be bigoted or chauvinist against white people, and that's not a good look, there's no real evidence to think that Abbott has that failing. It's important to state that right now is not the time to get oversensitive about the feelings of a small section of white people who feel their civil liberties are under threat because they aren't allowed to be racist anymore.
Political culture
While I should be used to the butterfly mind of today's media I still find myself kicking against it. With the ink still wet on the convictions of two of Stephen Lawrence's murderers the focus of most media outlets should be on whether we as a society, and the police in particular, have learned our lessons from these tragic events. Sadly it was not to be and we have quickly moved from real meat to a bit of meaningless puff.
Treating tweets as news is bizarre but it is not a surprise that the complaints originally came from members of the Conservative Party who have rarely been at the forefront of fighting racism, or even gently coughing against it. It is extremely worrying that at a time when there are still unequal divisions in pay, housing, services and opportunities we find respected media outlets indulging in a false row about 'inverse racism' against white people.
But it isn't just the media. Twitter itself loves a good scandal. Whether it's false reports of Fidel Castro dying, preempting murder investigations or faux outrage at Melanie Phillips it seems prone to get itself into an ill-informed lather, and that's us to blame. The twitter rumour mill was particularly dangerous during August's riots when a false report could take wings and even find itself being passed on by the media.
That implies that we need to do our best to improve our political culture by developing a network of trusted sources and by ensuring that each of us is endevouring to be a trusted source, resisting the urge to stick the boot into our 'enemies' before knowing all the facts, without passing on convenient rumours before checking if they are true and by keeping a sense of proportion between what is 'news' and what are 'remarks' by people in the 'news'.
Conclusion
Diane Abbott has apologised to anyone who was offended by the tweet although it seems she has little to apologise for. It is the reporting from sections of the media that made the tweet out to be more than simply one part of a longer, reasonable conversation.
She also received a dressing down from her leader.  A fellow Labour MP, Chuka Umunna, said that "Ed Miliband has spoken to her this morning and made it very clear in no uncertain terms that the contents of the tweet were unacceptable." It's a shame that Mr Miliband, who used to go by the nick name 'brains' is incapable of either understanding context or loyalty on this occasion.
We need to think about how to tackle the real problems we face today and, by discussing the legacy of colonialism, Abbott was engaging in that debate. Those Tory MPs who are jumping up and down about this fake scandal are deliberately trying to prevent that discussion taking place, the media should not indulge them.