The High Court ruled in favour of the Corporation of the City of London today by granting them an eviction order on the Occupy London protesters who have mounted a round the clock protest outside St Paul's Cathedral for the last three months. Occupy London are due to appeal the decision on Thursday but lawyers for the City said they wold not attempt to enforce the court order until 4pm on 27th January.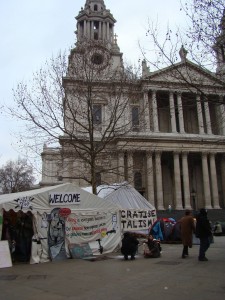 Supporters gathered outside the court with placards that read "Defend the right to 24 hour protest" and "Stop the global war on camping". However the order came in the same week that they have removed the "Democracy Village" in Parliament Square and it is unlikely protesters will be allowed to stay in that location indefinitely.
Green Party London Assembly member Jenny Jones, who has spent time in the tent city said "The Occupy camp outside St Paul's has for the last three months given a voice to the frustrations felt by many over the current economic situation. The protest has forced issues up the agenda and into the news, such as high executive pay. It's a pity a completely peaceful protest drawing attention to the inequality in our society is not allowed to continue.
She continued "The Occupy Camp may have lost their court case but they have succeeded in changing the debate – they have drawn attention to ideas such as the introduction of Tobin Tax, abolishing the City of London and sensible banking regulation. When I joined the camp I met articulate young people concerned about the current economic situation with ideas for a different way of doing things. The Mayor has made some harsh and unfair criticisms of the Occupy protestors, and I believe that we should allow this camp to remain rather than stifle protest because it's inconvenient."