Going down to New Maldon to meet Siobhan Benita a few days ago was an interesting experience. I don't go out that way very often so was keen to look round. Get this. When I was crossing the main road the cars slowed down and stopped to let me, a pedestrian, past, when they in no way had to! In London!
Is this the politest part of London I wonder? If making your main streets 20 mph limit suddenly transforms the manners of an area in this way I'm now doubly for it. Or perhaps they are just more careful drivers.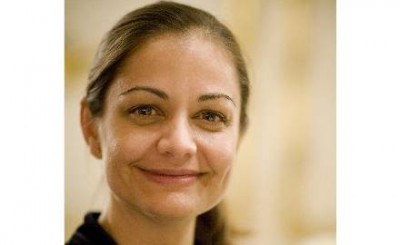 Siobhan Benita, who is running for Mayor as an independent, fits very nicely into that mould of a polite, softly spoken resident of Outer London. However, just because she doesn't shout does not mean she has nothing to say.
Recently she stepped down from from senior job in the civil service to run for Mayor but has top level experience in transport, local government and environmental issues. It was when working here that she first came across her first "celebrity backer" Peter Jones.
For those who don't know Jones is the 'nice one' from Dragon's Den and is worth about £220 million. Actually, does Dragon's Den have nice ones? Anyway it's certainly boosted Siobhan's campaign which has managed some impressive media interest from the Evening Standard, and Independent, not a mean feat for an independent.
Chatting to Siobhan in her garden (the recent scene of  fish theft by a heron) I found her relaxed, interesting and open-minded. Not like a politician at all really. Watch the video and decide for yourself;