At the weekend Big Smoke met up with Caroline Allen and Emma Dixon, two Green Party members and users of Hackney's Clissold Cafe, to discuss what kind of cafe the community really needs.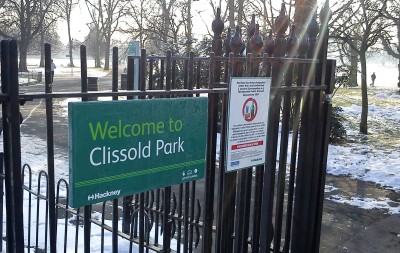 Clissold Park on a Saturday is dog utopia. Full to the brim of dogs charging, full tilt, in all directions, weaving in and out of the joggers and families building snowmen. It's a genuinely joyous place to be.
If the pleasure of open air and freedom is not enough there is even a small animal sanctuary with goats, exotic birds, deer and the like to peer at.
With such delights its no wonder that Clissold Park has become a hub for the community where many local residents are happy to take time to enjoy, walk the dog and go to with the children.
That means there is a weight of expectation on the Clissold House Cafe (that Ian Visits has recently admired) to be able to serve the community that it's in the heart of. This partly explains why Hackney Council recently renovated the House that was in desperate need of repair, and have now re-opened the cafe.
However, all has not been well with the private contractors that the Council called in to run the cafe, once a cheap and cheerful venue that served the community. While headlines like Class War Over Couscous may be a touch over blown, if fun, as we've mentioned before there are real issues here.
Even from the beginning when organising the bidding for the contracts the Council, by imposing a £1 million per annum turnover minimum, had ensured only particular kinds of business could apply. Indeed while the council has some excellent "growing communities" schemes that promote local food projects this seemed like a missed opportunity to create a cafe that drew on the local community rather than came from the outside without really understanding it's needs.
Many have complained about the prices but the first thing I noticed about the menu when I went in it had the kind of food designed to annoy many local residents. While most of us have a reasonable couscous/cumin/organic threshold items that consist of ten such terms rounded off with a "bit too much" price tag do more to keep people out than draw them in.
For example, while we were there we didn't see a single ethnic minority user, this in the middle of Hackney! That alone indicates something is not quite right.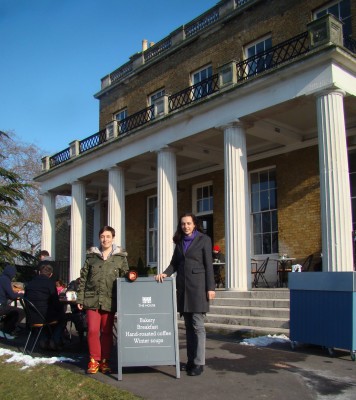 Caroline Allen (right) told me that the council could have used that contracting process to feed into those local growing projects giving extra support to the Growing Estates initiative. That process could also have been used to promote local business and ensure that local black and Turkish communities, for example, felt welcome.
She said that "This would not be such a problem if there were more places round here that catered for poorer communities, but there aren't."
Emma Dixon, left, was concerned that too little thought had gone into who should take the contract and what services they should be asked to provide. "It's not that scientific, if you put the prices up less little old ladies will come in for a cup of tea."
Even as Emma described their first "really disastrous visit here" we were getting  glimpse of how consistently bad the service is. On just this one visit the cafe managed to get our order wrong and tried  to charge one of us ten pounds for a cup of tea. I know their prices are high, but that was taking the mickey.
Emma continued that "I wrote them a polite email and got a perfectly nice reply saying that this was still a work in progress. Well, this place looks beautiful but that just doesn't wash."
Emma told me that "We've had various contractors over the years. What we need is standard cafe fair, sandwiches, jacket potatoes, cheap and cheerful lines. During the refurbishment we had this van  outside which was utterly brilliant. Proper nice sausages, gorgeous chicken wraps, all reasonably priced even though it did have the fancy things that some people want round here too."
She continued that the "Council has failed in its duties to consider the equality implications of their actions. The elderly can't afford to come here now, it's all white, middle class people."
Caroline Allen commented that "the council say they want to get rid of poverty in Hackney. All they are really  doing is excluding people and then saying 'It's great! It's regenerating!' We need to get people involved."
She concluded that "Even if it's too late to change this contract it should be a lesson for Hackney Council on other contracts that they award that they need to accommodate the needs of the local community, and the impact on equality".
It does seem like a wasted opportunity in an area that lacks good places to go that are affordable that the council have given the contract to suppliers who have clearly bitten off more than they can chew. With consistently unreliable service and over-priced food that only one section of the area might conceivably want to eat the Clissold Park Cafe is, well, a little disappointing.
Follow the #toastofhackney tag on twitter for more discussion.
Sponsored link Magazine Subscriptions.