Natalie Bennett takes the battle direct to the politicians.

A tunnel leading away from Westminster Tube station. 8am. February. Not possibly the place you'd choose to be – but the cause was good, and so it felt was the effects.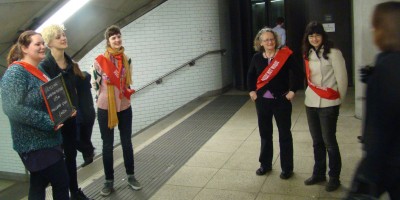 Green Party London mayoral candidate, Jenny Jones; Susanna Rustin, West Central Assembly candidate; and I (also a London Assembly candidate) joined Climate Rush this morning for a snap one-hour informal lobbying session of MPs, peers and their staff.
The subject was cycling safety – the message simple. David Cameron has just introduced a £15m cycle safety programe. Great, so far as it goes, that cycling's even on the agenda, but the Dutch spend £465 million on cycling annually.
Regular Westminster visitors will know that if you take Exit 3, you go past a slightly mysterious door-in-the-wall marked "passholders only", and it turned out at that at this time in the morning the per minute rate of a short-term captive target  audience proved high.
I was impressed to learn that Climate Rush has been doing this consistently for about two years – each Wednesday on a different subject. That's what you call efficient campaigning.
There were some arguments about our figures – we were comparing one programme to a broad spread of Dutch efforts. True, so far as it goes, but the most important figures of all are unarguable. Amsterdam cycle deaths last year – zero. Paris cycle deaths last year – zero. London cycle deaths last year – 16.