Tonight, Tuesday, eco-activists Climate Rush staged a sit-in demonstration at Waitrose, Russell Square, in protest against its new partnership with oil company Shell. Activists spoke to Waitrose shoppers, read out an 'intervention' letter to the shop's manager and linked arms chanting 'don't break us up, break up with Shell'.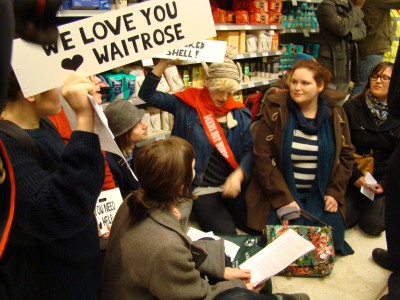 The occupation is part of Climate Rush's sustained campaign, which calls for an end to the business partnership that has led to two Waitrose stores opening on Shell petrol station forecourts.
Shell has been criticised for its human rights abuses in Nigeria by Amnesty International and Platform. It has pulled all investment from renewable energy sources.
Anne Schulthess, spokesperson for Climate Rush, said;
"Waitrose's new partnership with Royal Dutch Shell completely contradicts their strong ethical guidelines. Shell are involved in environmentally destructive practices all over the world – from tar sands extraction in Canada to drilling for oil in the Arctic – while Waitrose branding is all about sustainable, ethical, fairly traded produce. We'd like to see Waitrose return to their environmental commitments.'
Handing out leaflets that declared te campaigners were "staging an intervention" and that it was time for "Waitrose… break up with shell!"