Just round the corner from King's Cross station, technically on the Camden and Islington border but in reality in the nether space that exists around large stations, lies Housmans bookshop.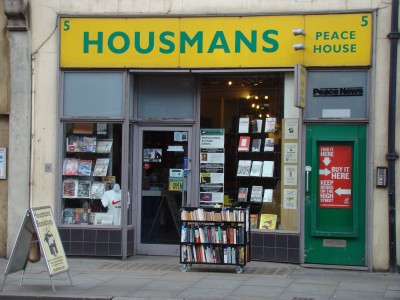 Housmans was founded in 1945 as a mail order book club for pacifists. As the fire of world war cleared and the chill of the cold war began Lawrence Housman (brother of A. E.) was the most prominent of a number of pacifists who decided that this was the time to promote the radical idea of peace.
In 1959 they bought up the building in Caledonian Road and set up both the bookshop and gave out space to house radical groups and campaigning peace organisations.
Today the bookshop is bigger (it was just three meters deep when it opened, barely room enough to swing a placard) but it still hosts radical groups above the shop. War Resisters International, No Sweat, Kick Nukes, Forces Watch and Campaign Against Climate Change all rely on Housmans for their offices today.
Radical Politics
As the bookshop increased in size there was a natural progression towards a broader range of political books beyond pacifism. Speaking to Nik Gorecki, one of the shops three paid staff members, he says "there must have been a time when they had to take a hard decision to start stocking books outside of their political tradition… but there will never be a time when we don't stock peace books."
So how does Housmans work as a business? "Housmans is held in trust rather than owned by an individual. There are three members of staff who all have an equal share of responsibility and pay parity. Technically you'd call it workers' control although there is a set of trustees above that who oversee it. Volunteers are completely essential to the running of the shop because we're run on a shoe string."
Because of the way that Housmans was set up they don't have the problems with rent that others places might have. Nik Gorecki thinks that for others "the bookshop model is dead in terms of cold business. Something needs to be done about rent, money has moved into property prices driving up rent prices. That's not a problem for this shop, but it is a social problem."
A niche bookshop
Nik describes how sometimes customers discovering the shop for the first time walk in, look around amazed, and then walk out again. "I guess we're a niche shop. Every book fits a specific political purpose."
Nik says the shop's fortunes are moving in the right direction, but they are still under some of the same pressures that face other booksellers. "Amazon has changed people's perception of the price of a book. What they are doing is the Walmart style of monopolisation." By selling some titles at cost, or under, they drive out of business their competitors leaving them free to whack up the prices once the way is clear. They won't be offering free postage once they've killed off the competition.
Hosting events like book launches, talks and discussion circles "has been relatively successful. We've had some fantastic events in the shop…. [however]… our biggest failure is not letting people know about our existence and our project… we're a campaigning bookshop and we need to get that across more."
They'll be hosting events for the reborn Occupy movement and using the networks they've built as a hub. "Housmans is a focal point for people with shared politics, and it makes sense to help try and help make connections between the people we meet. We're part of a movement".
Radical alliance
Housmans is part of the Alliance of Radical Booksellers a loose grouping of around twenty radical bookshops and sellers. They've recently launched an annual radical book award, given by book sellers themselves, called the Bread and Roses Award to be announced on May 1st.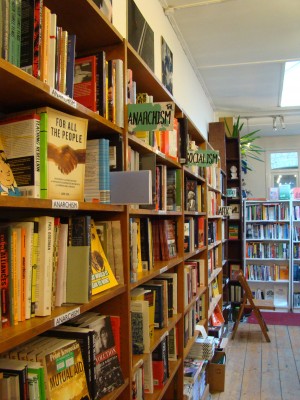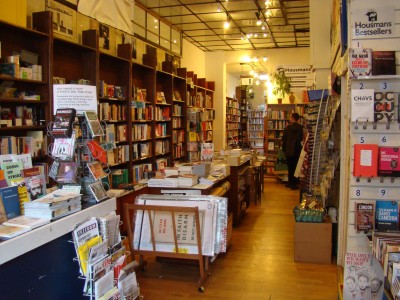 This is a second in a series on London's bookshops that began by looking at Wood Green's Big Green Bookshop.