Residents of Central London have occasionally dreamed of having surface to air missiles in their blocks, or at least they would have dreamed this if the police helicopters had let them get some sleep.
You will have already heard that six sites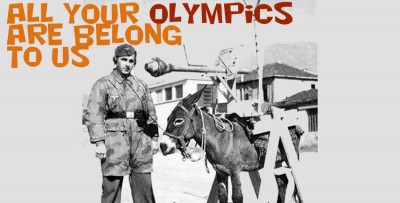 have been earmarked for to site surface to air missiles during the Olympics in case of the need to fie high powered military ordinance in a built up area. You never know.
The main risks involved are that;
Rioters get hold of them and fire them at Buckingham Palace.
Someone sits on the button and obliterates a passing jumbo.
Richard Branson passes in a hot air balloon and well meaning squaddies shoot him down, for the nation.
All plausible scenarios, at least more plausible than any I can think of where firing missiles in the middle of London becomes the option of minimum civilian casualties. As one taxi driver explains, we're doing it "because that's the kind of world we're living in."
Trial by Jeory points out that the MOD seems to be cutting the local council out of the loop despite committing to them that they would talk to them first before going public with their plans to place deadly weapons in their borough. For some people of Newham and Tower Hamlets the Olympics must seem like a monster that they've never had any control over. Random Blowe has the leaflets sent to all the local residents effected.
East London Lines reports that local MP, Rushanara Ali, said "The residents of Bow have not been consulted and have been given little warning about this, nor the opportunity to voice their concerns properly.  The Secretary of State for the MOD needs to look at this as a matter of urgency and answer the grave concerns that my constituents and I have about this proposal."
Whether it's the restrictions on protest, or even putting up critical posters, or the fact that only registered corporations are going to get a real slice of the Olympics action there is the feeling that tight regulation is giving little space for the ordinary people who live in the area. The absurd militarisation may be more about posturing than actual security but it can only add to the feeling that the Olympics is something that is being done to us, rather than by and for us.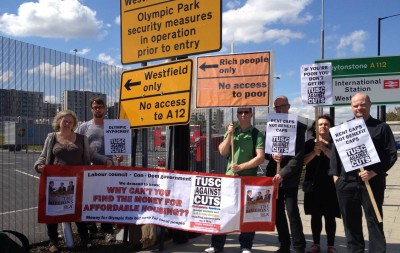 Pushing the poor out
It may not be helping that the authorities seem to be engaged in some kind of continual shock and awe aimed at convincing us that terrorists and immigrants are a clear and present danger that must be kept out no matter how inconvenient or unpleasant we have to make life for everyone else.
Today there was a protest at how the Olympics may have come to London area but they have ended up excluding the poor rather than bringing everyone together in some of the capital's poorest boroughs.
The presence of the Olympics has seen transport, services and housing come under increasing pressure.
Nancy Taaffe, a Waltham Forest library worker who was recently made redundant due to the austerity measures, who is standing for TUSC at the GLA elections candidate, said "Why are they talking about moving low-income families to Stoke when money is sloshing around the borough? Thousands of flats have been built as part of the Athlete's Village but locals won't get a look in."
Blackheath
Howard Shields, the Blackheath Society's chairman, told the Evening Standard that the MOD's "leaflet talks about putting a ground-based air defence unit located at the western end of Blackheath between the 2nd and 10 May. They made it clear that on the basis of this exercise they will decide if it is to be deployed during the Olympics.
"Our concern is that so much of the heath is already being used for other bits of the Olympics, including a huge event screen and another large part of it cordoned off as a staging post for construction lorries. We're anxious this is not going to take another enormous chunk of the heath, and have been assured footprint it quite small."
With growing numbers of Londoners saying that they are going to get out of the city for the duration of the Games the siting of missiles will be the least of our troubles. Not only will the capital be transformed into a corporate hell hole where large sections of our infrastructure will become unusable, but it will become increasingly difficult to state simple truths like "why did Ken Livingstone do this to us?"