Just down the road from Tufnell Park tube on Fortess Road you'll find two "free books" shops. The concept is simple, revolutionary and not a single customer who was there while I was around actually believed it.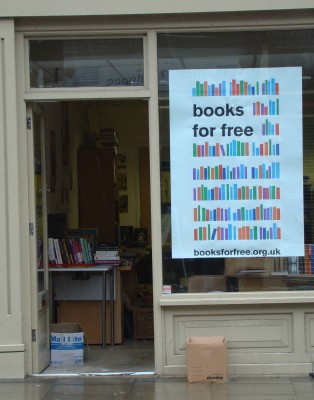 Every year thousands of good books are pulped simply because there is no real mechanism to get them into the hands of someone who wants to read them. The Healthy planet initiative is here to help by rescuing as many of those books as it can and giving them away to a grateful public.
The organisation, which is a charity focused on sustainability issues, is helping to avoid sending precious books to landfill and helping those who can't afford many books to stock up, something that comes in particularly useful for parents with knowledge hungry kids. This is a genuinely brilliant idea.
Everyone who is working at the two shops is a volunteer loosely supported by the national charity, but because there's no money involved and all their wares are free the actual amount of hour to hour work in the shop is reasonably low.
As you'll see from the pictures they're pretty low on furniture and you'll find yourself rummaging through piles of high quality books laid lovingly on the floor because there's nowhere else for them to go.
This low cost model of second hand bookshop (which includes some real finds and does seem to have a much better selection than most charity shops) is fascinating, facilitated as it is by the fact that many shops are empty at the moment so some landlords are open to letting their places be used rent free (because it takes the burden of rates off their hands and charities pay a much reduced rate).
You need to keep your eyes open for them though because they've not really lashed out on frontage, with one shop still bearing the signs from the insurance people who were there before. However, do come and find them as a unique experiment in sustainable living as well as for the opportunity to pick up some great books for free.
One shop on Fortess Road has a large range of kids books and the other was described to me as the "adult bookshop" but disappointingly simply had books for adults rather than free "adult books".