The sex toy industry is bucking the recession, both glorious dips of it, with increased sales across the UK to a priapic £250 million a year.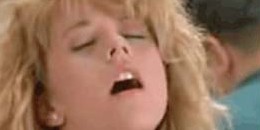 One company decided to put these sales to the service of social science and has revealed which parts of the country spent the most and the least on what used to be known as "marital aids".
Taking a sample of half a million orders over the course of a year Lovehoney worked out how much each adult in every town and city in the UK spent on products like sex toys, bondage and lingerie.
Their survey is just a bit of fun really as it only covers online sales from their company – but the sample size is significant and we'll run with it none the less. Why not?
And the results for London are…
Breaking London down into 61 areas Big Smoke thought we'd take a look at who was buying in the city and who was getting it on unassisted.
Well, the shocking news is that East London's Ilford, according to wikipedia the only place in the UK to have found a whole mammoth skull, have been so preoccupied by this important scientific find that they barely keep their minds on more earthy matters. At a mere twenty pence each they either aren't buying many toys, or just buying very small ones.
While it comes as no surprise that Westminster, full of filthy sex maniacs as it undeniably is, tops the London league, closely followed by Chelsea residents who may well have more spare cash than the good people of Ilford. Indeed there does seem to be a bit of a trend that richer parts of London spend more money on this stuff than poorer parts (gasp!) but how does that explain Harrow or Hayes and Harlington coming so low in the sex Olympics?
Battersea is, of course, a lovely area but it's unlikely to be the fourth richest area in London. I reckon it's seeing that huge power station thrusting up into the skyline that gives the residents all sorts of frisky ideas. Also why the difference between Greenwich and Lewisham? These are two similar boroughs but Greenwich comes in at 7th place, fourteen full places above their Lewisham neighbours. The bracing Thames air is clearly a tonic.
Mind you buying more sex toys does not actually mean more sex, or being sexier, but if you can't make lurid conclusions about your neighbours based on fairly flimsy research when can you?
| | | | |
| --- | --- | --- | --- |
| London Rank | National Rank | Area | Spend per adult |
| 1 | 7 | City of London and Westminster | 54p |
| 2 | 17 | Chelsea | 46p |
| 3 | 25 | Uxbridge | 44p |
| 4 | 27 | Battersea | 44p |
| 5 | 30 | Islington | 43p |
| 6 | 35 | Bermondsey | 42p |
| 7 | 38 | Greenwich and Woolwich | 42p |
| 8 | 49 | Uxbridge and South Ruislip | 41p |
| 9 | 51 | Bethnal Green | 41p |
| 10 | 54 | Vauxhall | 40p |
| 11 | 69 | Poplar and Limehouse | 39p |
| 12 | 72 | Twickenham | 39p |
| 13 | 89 | Putney | 38p |
| 14 | 98 | Kensington | 38p |
| 15 | 116 | Hammersmith | 37p |
| 16 | 138 | Hornsey and Wood Green | 36p |
| 17 | 140 | Richmond Park | 36p |
| 18 | 147 | Holborn and St Pancras | 35p |
| 19 | 166 | Streatham | 35p |
| 20 | 167 | Finchley and Golders Green | 35p |
| 21 | 176 | Lewisham | 34p |
| 22 | 179 | Hackney | 34p |
| 23 | 180 | Hampstead and Kilburn | 34p |
| 24 | 192 | Carshalton and Wallington | 34p |
| 25 | 194 | Dulwich and West Norwood | 34p |
| 26 | 200 | Beckenham | 33p |
| 27 | 208 | Brentford and Isleworth | 33p |
| 28 | 209 | Westminster North | 33p |
| 29 | 232 | Chipping Barnet | 32p |
| 30 | 233 | Bromley and Chislehurst | 32p |
| 31 | 239 | Tooting | 32p |
| 32 | 242 | Sutton and Cheam | 32p |
| 33 | 245 | Kingston and Surbiton | 32p |
| 34 | 262 | Orpington | 31p |
| 35 | 279 | West Ham | 30p |
| 36 | 286 | Walthamstow | 30p |
| 37 | 288 | Ealing | 30p |
| 38 | 295 | Enfield | 30p |
| 39 | 302 | Chingford and Woodford Green | 30p |
| 40 | 307 | Leyton and Wanstead | 29p |
| 41 | 308 | Erith and Thamesmead | 29p |
| 42 | 317 | Ruislip, Northwood and Pinner | 29p |
| 43 | 325 | Camberwell and Peckham | 29p |
| 44 | 327 | Tottenham | 29p |
| 45 | 328 | Eltham | 29p |
| 46 | 338 | Old Bexley and Sidcup | 28p |
| 47 | 347 | Croydon | 28p |
| 48 | 349 | Wimbledon | 28p |
| 49 | 368 | Hornchurch and Upminster | 27p |
| 50 | 369 | Mitcham and Morden | 27p |
| 51 | 395 | Bexleyheath and Crayford | 26p |
| 52 | 411 | Hendon | 26p |
| 53 | 425 | East Ham | 25p |
| 54 | 440 | Feltham and Heston | 24p |
| 55 | 457 | Brent | 23p |
| 56 | 470 | Hayes and Harlington | 22p |
| 57 | 481 | Barking | 22p |
| 58 | 488 | Dagenham and Rainham | 21p |
| 59 | 490 | Edmonton | 21p |
| 60 | 493 | Harrow | 21p |
| 61 | 501 | Ilford | 20p |